---
This page contains prayers, pictures and reflections which we hope you will find inspiring in your quiet moments.
The word 'Advent' comes from Latin and means "coming;" its purpose is to look forward to the coming of Christ to Earth; it was a season that focused on waiting. So, "Advent means something new is coming. The dawn of a new and better era. This is really what the Christmas season is all about, isn't it? It's the celebration of the ADVENT of a new era. God broke into time and space and entered our world"
Through prayer, we can enter into God's world and ask Him to prepare our hearts the way He prepared all of history to receive the gift of His Son. Ask the Father to use this time during Advent to cut away the distractions and make your life a place of warmth and openness.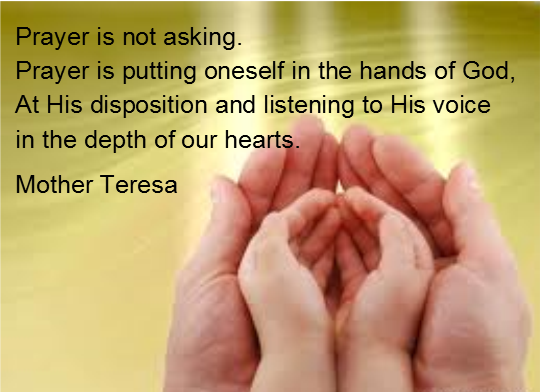 Lord Jesus Christ, in the loneliness of our journey may we never feel abandoned, and in the days of our affliction may we know your comfort. In the hour of our despairing may our faith be strengthened, our hope fortified, and our love purified; for your own name's sake. Amen.
Marie Bernarde Soubirous (1844-1879)
Dear Father, I don't know what this day holds, but I know that you hold the day. It was you that laid the foundations of the Earth and therefore understands every part of it. I know that you keep the sun in the sky, the stars in place, and have created this Earth for me to inhabit and enjoy.
Throughout this day, may I be keenly aware of your presence in everything I do – as I commute to work, drop children off at school, keep house and speak with my neighbors.
May my life be a living example and may others see Christ in me.
Amen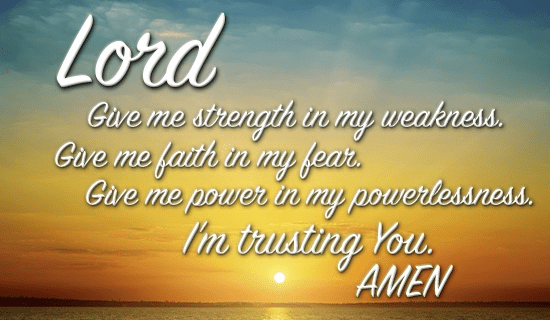 Psalm 121
Assurance of God's Protection
A Song of Ascents.
1 I lift up my eyes to the hills—
    from where will my help come?
2 My help comes from the Lord,
    who made heaven and earth.
3 He will not let your foot be moved;
    he who keeps you will not slumber.
4 He who keeps Israel
    will neither slumber nor sleep.
5 The Lord is your keeper;
    the Lord is your shade at your right hand.
6 The sun shall not strike you by day,
    nor the moon by night.
7 The Lord will keep you from all evil;
    he will keep your life.
8 The Lord will keep
    your going out and your coming in
    from this time on and forevermore.
Before the ending of the day,
Creator of the world, we pray
That you, with steadfast love, would keep
Your watch around us while we sleep.
From evil dreams defend our sight,
From fears and terrors of the night;
Tread underfoot our deadly foe
That we no sinful thought may know.
O Father, that we ask be done
Through Jesus Christ, your only Son;
And Holy Spirit, by whose breath
Our souls are raised to life from death.
---